Nature's most potent nutrients supporting pain and inflammation relief all in one product.*

AFA + CBC
 Wild Harvested Aphanizomenon Flos-aquae 
+
Cannabichromene CBC {non hemp derived}
Benefits:
Systemic
Anti - inflammatory
Pain reduction
Nerve pain
Brain
Neuroprotective 
Depression
Gut
Irritable Bowel Syndrome
Inflamed Colon
Hemorrhoids
Skin
Anti acne
Anti bacterial
Eyes
Ocular Pressure
Glaucoma
Summary
Saluz AFA acts as a multi-nutrient accelerator when combined with other bioactive compounds. When AFA is combined with CBC in our Relief Source the result is a powerful combination of daily essential micronutrients and a potent major cannabinoid delivering a range of benefits. Via activation of the nervous system and immune system tissue the combination delivers noticeable pain reduction and anti inflammation effects with a wide spectrum of general health benefits associated with daily consumption of AFA.
The Story 
CBC is a major cannabinoid and one of approximately 100 found in cannabis C. sativa. Like CBD, CBC is a non-intoxicating, non-psychoactive compound. However, unlike CBD and ∆9-THC, CBC is not a DEA scheduled compound therefore is safe for those requiring drug tests.
 Our CBC is produced by a special patented process where it is grown using brewer's yeast. The result is a pure non hemp derived CBC. When ingested regularly CBC is linked to a complex cell harmonizing system called the Endocannabinoid System ECS. These are located throughout the body in receptor sites and support multiple functions. CBC modulates physiological responses by engaging with a variety of cell surface receptors. Cannabinoid receptors 1 and 2 (CB1 and CB2, respectively) are the canonical cannabinoid receptors in the body. CB1 functions primarily in the central and peripheral nervous systems.
For those looking to target the benefits of CBC and boost the performance of these benefits  the Relief Source is an effective solution backed by science. 
Recommended Dosage:
Recommended dosage 3-4 capsules
What customers are feeling:
"Slow down has never been in my vocabulary. I believe in the power of fun and active lifestyle.. healthy body is crucial for my careers; exercise specialist, firefighter, neighborhood and local activist, athlete… Relief Source . healthy diet and lifestyle help me have even more energy and pain free as my body ages.. it's like I'm buzzing all the time. AFA keeps me functioning and vibrating at a higher level. Relief Source especially gives me better quality of sleep. Noticeably more rested and recovered!" - Nancy Demattei
What doctors are saying:
"Consumption of Aphanizomenon flos-aquae (blue green algae) Has Rapid Effects on the Circulation of and Function of Immune Cells in Humans." – Gitte S. Jensen, PhD, et al. 
"AFA the native blue green algae growing wild and abundantly in Oregon's Upper Klamath lake, one of the world's most volcanic mineral-rich and unpolluted lake, provides an opportunity to humans for something closer to an ancient health "
- Dr. Paul Swanson, M.D.
Nutritional Facts:
FAQ:
What is AFA?

Many health experts, authors, doctors, and nutritional scientists consider AFA the world's most perfect food. This sustainable superfood crop is the only remaining raw uncultivated food in the USA that can be harvested commercially. It is a complex billion-year-old nutrient-dense cell that when taken regularly can unlock your body's ability to regenerate itself and heal you in multiple ways.

Around 8000 years ago a massive volcanic eruption covered the bottom of Upper Klamath Lakes with rich mineral sediment. The rare minerals combined with the abundance of sunshine, creates the perfect environment for AFA (Blue Green Algae) to flourish. 

The result is a perfectly balanced highly bioavailable nutrient-dense superfood loaded with amino acids, omega 3's, live enzymes, and stacked with proper vitamins and minerals all working together in perfect harmony. 


What is CBC?
CBC modulates physiological responses by engaging with a variety of cell
surface receptors. Cannabinoid receptors 1 and 2 (CB1 and CB2, respectively) are the canonical cannabinoid receptors in the body. CB1 functions primarily in the central and peripheral nervous systems.*
Cannabichromene- Cannabinoid that works with the endocannabinoid system of the body. Ours comes from a  non-hemp source. It's not psychoactive and has beneficial properties to support anti inflammation of the body.*
How do I take it?
3 Capsules with or without food.

What does it taste like?
AFA Blue Green Algae has a slightly bitter, nutty, floral flavor that tastes alive. According to traditional Chinese Medicine, bitter flavors influence the heart-mind system actually helping the mind focus better.
What are the benefits of AFA?
Cognitive Function*
Weight Loss*
Immunity*
Digestion*
Central Nervous System Support*
Cell Regeneration*
Longevity*
Heart health*
Energy*
Disease Prevention*
Vitality*
Healthy Skin*
Can I take this while pregnant or breastfeeding?
The micronutrients in AFA are all associated with profound health benefits and your body will recognize then as "food". Consult with your physician before making any changes to your diet during pregnancy or nursing.
How is AFA different from Spirulina and Chlorella?
Spirulina and chlorella are cultivated in man-made ponds whereas AFA is wild harvested from Upper Klamath Lake where it grows in a pristine, mineral-rich environment The difference in energy one receives from these whole foods is similar to the difference between cultivated produce and foraged wild vegetables and fruits. In general, one needs to take only a third as much AFA per day.
How long before I feel it working?
Due to its highly absorbable nutrients, some say they feel a mental "spark" after ingesting it. That may be due to its amino acids stimulating the neurons in your brain. For others the feeling may be less pronounced.
How long does shipping take?
You should expect your AFA to arrive within 2-4 business days after ordering.


How does the subscription work?
If you choose to subscribe and save 15% on your orders, you can cancel or modify your subscription at any time.
How does your satisfaction guarantee work?
We strongly believe you will love the way you feel when taking AFA every day. If for whatever reason you do not, we offer a full refund within 30 days. No questions asked. 
*These Statements have not been evaluated by the Food and Drug Administration. This product is not intended to treat cure or prevent any disease.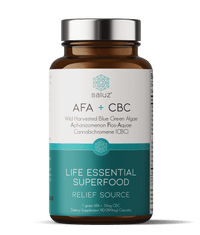 AFA + CBC Wild Harvested Blue Green Algae Capsules 465mg 90ct. Saluz™
- 90 Capsules
$69.99
AFA + CBC Wild Harvested Blue Green Algae Capsules 465mg 90ct. Saluz™ - Reviews
Emily Atlantis Wolf recommended this product! So grateful!
I am truly amazed and grateful! Beginning to feel human again! Sleeping better than ever!
Path to Quality Sleep
Since taking Saluz at night (a few month back and recently this product) I have experienced better quality sleep. I use an Apple-based Sleep App to gather some metrics. It shows that my sleep quality has increased. I have weened away from other multi vitamins and only rely on Saluz. Consistency is key to Longetivity ;-)
It's only been 14days? I've been taking 3 capsules in the morning and 3 capsules in the evening. I just ordered 1lb of AFA to see if I notice a difference in the two products.
Consider Me a Customer for Life!
I started using the Saluz AFA and AFA + CBC capsules over 2 months ago. As a fitness professional and bodybuilder, I put my body through a lot! And I, of course, knew of the anti-inflammatory properties of AFA. However, I'd never felt the benefits like I have with the Saluz products! AFA each morning after breakfast and AFA + CBC right before bed….I sleep so efficiently, my body doesn't get or stay sore and stiff nearly as much, and the growth I have seen in my off-season has been visibly enhanced. Consider me a customer for life!
Relief Source helps me recover from my workouts faster.
"Slow down has never been in my vocabulary.
I believe in the power of a fun and active lifestyle.. healthy body is crucial for my career; exercise specialist, firefighter, neighborhood and local activist, athlete…Relief Source, healthy diet, and lifestyle help me have even more energy and pain-free as my body ages.. it's like I'm buzzing all the time. AFA keeps me functioning and vibrating at a higher level. Relief Source especially gives me better quality of sleep. Noticeably more rested and recovered!" - Nancy Demattei