Contains 5 masks (each individually wrapped)

MAAs Face Masks are made of special ultra-thin fibre made in Japan. The balanced composition is suitable for all skin types, including sensitive skin. It deeply moisturize the skin and repair skin damage caused by ultraviolet light.
Based on mycosporin-like amino acids (MAAs), an innovative substance in anti-ageing cosmetology that is contained in a specific form of algae, which ensures the survival of their cells under conditions of intense ultraviolet radiation.
This property of MAAs has proven effective for cosmetic use. Experimental data showed that mycosporin-like amino acids protect the epidermis from UV damage, are able to suppress the radical forms of oxygen that are induced by UV radiation, and are also effective in stimulating the natural production of collagen and elastin and inhibiting collagen-destroying enzyme - collagenase. Also, MAAs significantly increases the level of hyaluronic acid within 72 hours after application.
Mycosporin-like amino acids have a lower molecular weight than other ingredients used in cosmetics, thereby making them more able to penetrate deep into the skin. 
The composition is supplemented by:
- ceramides to maintain the hydro-lipid balance of the skin
- fullerene  suppresses excessive production of melanin, restores the barrier functions of the skin, improves turgor
- EGF  - peptide to improve regeneration and increase skin density
How to use: Apply the mask to clean skin. The mask should be applied so that there are no air bubbles under it. Hold for 10-15 minutes.
INGREDIENTS:  Water, glycerin, pentylene glycol, orchid algae extract, dipalmitoyl hydroxyproline, celebroside, yukinoshita extract, polyglutamic acid, button extract, kudzu root extract, human recombinant oligopeptide-1, fullerene, water-soluble proteoglycan, hydrolyzed collagen , Glycosyl trehalose, hydrolyzed hydrogenated starch, xanthan gum, caprylyl glycol, 1,2-hexanediol, brown algae extract, soybean oil, lecithin, PVP, PEG-60 hydrogenated castor oil, Na citrate, cyclodextrin, BG, Glycerlitic acid 2K, citric acid, quaternium-45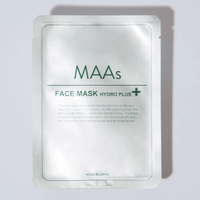 MAAs Anti-Aging Hydro Plus Face Mask (5pcs)
$49.00
MAAs Anti-Aging Hydro Plus Face Mask (5pcs) - Reviews