Product description:
By blending naturally-derived ingredients "MAAs *1 ", the amount of UV scattering agents is reduced, achieving SPF50++/PA++++ even though it is "non-chemical".
As a sunscreen and makeup base, it gently protects the skin from UV rays without putting a burden on the skin.
Benefits:
Sun Protection

Firm skin

Luster

Moisturizes Skin

Skin elasticity
What are MAAs
 ?
"MAAs *1 " is one of the amino acids contained in seaweed and fish, and is an ingredient that has been said to be difficult to extract, although it is expected to have a high beauty effect.
After 10 years of development, we have succeeded in extracting a high concentration from cyanobacteria using our original method. It leads to firm, glossy and elastic skin.
Product Features

Achieves SPF50+/PA++++ with non-chemical UV absorber-free

non-chemical

Achieves "SPF50+/PA++++" with non-chemicals. No white residue or creases.

Waterproof & no cleansing required

It is waterproof, which is rare for non-chemical types, so it is resistant to sweat and water, so you don't have to reapply it over and over again.

When off, please wash off with soap, etc. without special cleansing.

For those with sensitive skin

It is easy to use and can be used even by sensitive people.

Patch tested (*This does not mean that allergies and skin irritation do not occur in all people.)

High moisturizing power

Formulated with plant-derived moisturizing ingredients *2 , it provides moisture while preventing dryness and rough skin.

It feels like a beauty cream and can be used anytime you feel dry.

UV mineral coating

By using a UV scattering agent coated with two layers of minerals, the UV cut effect is improved. In addition, the coating provides a smooth finish.


**Does not contain silicones, mineral oils, alcohol, parabens, colorants and artificial fragrances.

Suitable for all skin types and ages.


Ingredients

Water / cyclopentasiloxane / BG / squalane / ethylhexyl palmitate / zinc oxide / titanium oxide / glycerin / olive oil / jojoba seed oil / bentonite / cyclodextrin / tri (caprylic acid / capric acid) glyceryl / behenyl alcohol / cyanobacterium extract / shiaba Tanoki Extract / Kidachialoe Leaf Extract / Eucalyptus Leaf Extract / Gentian Root Extract / Clove Extract / Water Soluble Collagen / Mugwort Flower Extract / Ferulic Acid / Dextrin Palmitate / Hydroxypropyl Cyclodextrin / Ca Silicate / Polyglyceryl-6 Polyricinoleate / Polyglyceryl -3 Polydimethylsiloxyethyl dimethicone / silica / 1,2-hexanediol / caprylyl glycol / (hydrogen dimethicone / octyl silsesquioxane ) copolymer / stearic acid / kaolin / polyglyceryl isostearate -10 / polyglyceryl isostearate - 2 / Disteardimonium Hectorite/Al Hydroxide/Lecithin/Glyceryl Isostearate/Rice Bran Oil Fatty Acid Phytosteryl/Tocopherol/Polyhydroxystearic Acid/Polyglyceryl Laurate-6/Rice Bran Sterol/Phytosterols/Stearyl Alcohol/Glyceryl Stearate , polyglyceryl myristate-10/hydrogenated lecithin/crystalline cellulose/dihydrocholesteryl oleate/phytosteryl oleate/cholesteryl nonanoate/cholesteryl butyrate/dihydrocholesteryl butyrate/milk extract/lactose/sphingomyelin/zirconium oxide/potassium hydroxide / Lecithin hydroxide / Glyceryl caprylate / Polyglyceryl-10 laurate / Glycosyl trehalose / Hydrolyzed hydrogenated starch


Application: 
Be sure to shake well, and apply an appropriate amount little by little to the skin evenly.

In order to maintain the sunscreen effect, please reapply each time after wiping your skin with a towel.

When removing, carefully wash off with makeup remover or whole body cleanser.

It can also be used as a makeup base.
Precautions for use

Please use carefully to make sure that there are no abnormalities on your skin.

 

Discontinue use if it does not suit your skin.

Do not use on areas with abnormalities such as wounds, swelling, or eczema.

If any abnormalities such as redness, swelling, itchiness, irritation, color loss (vitiligo etc.) or darkening appear during use or after use on skin exposed to direct sunlight, discontinue use and consult a dermatologist. Please contact us.

 

If you continue to use it as it is, the symptoms may worsen.
If it gets into your eyes, wash it off immediately.

 

If a foreign body sensation remains even after rinsing, or if any abnormalities appear, consult an ophthalmologist.

Due to the use of naturally derived ingredients, you may feel a unique smell.

Be sure to close the cap tightly after use.

Do not store in hot and humid places or in direct sunlight.

Keep out of reach of infants.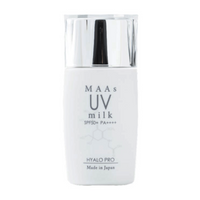 MAAs Hyalo Pro Face/Body UV Milk/Makeup base (35g)
$50.00
MAAs Hyalo Pro Face/Body UV Milk/Makeup base (35g) - Reviews