MAAs is an innovative series of cosmetics that first applied mycosporin-like amino acids in cosmetology and was able to scientifically prove the effectiveness of their effects on human skin and protection against photoaging.
Mycosporin-like amino acids (or MAA) is a substance contained in a particular form of algae, ensuring the survival of their cells in conditions of intense ultraviolet radiation.
This property of MAAs has proven effective for cosmetic use. Experimental data showed that mycosporin-like amino acids protect the epidermis from UV damage, are able to suppress the radical forms of oxygen that are induced by UV radiation, and are also effective in stimulating the natural production of collagen and elastin and inhibiting collagen-destroying enzyme - collagenase. 
MAAs Repair Essence Serum is a combination of the protective properties of mycosporin-like amino acids, a complex of microcollagen, hyaluron, elastin and crocus bulb extract - an activator of intercellular communication that helps to overcome the protective barrier of keranocytes and deliver active substances to the fibroblast layer, and also induces the secretion of CTGF growth factors (connective tissue growth factor) and FGF (fibroblast growth factor) , which are important for the synthesis of collagen and elastin in the dermis.
- protects from photoaging, prevents the appearance of pigmentation
- improves skin elasticity
- significantly tightens the dermis layer
- restores cell damage 
- smoothes wrinkles
- makes pores less visible
How to use: apply after cleansing the skin and lotion.  
INGREDIENTS: Water, BG, glycosphingolipid, cyanobacterial extract, acetylhydroxyproline, sodium hyaluronate, Croxchrysantus root extract, hydrolyzed elastin, hydrolyzed collagen, arginine, cyclodextrin, xanthan gum, gum arabic
Volume: 15 ml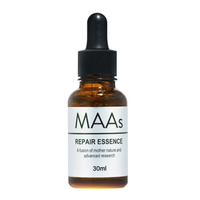 MAAs Repair Essence Ultra Moisturizing Anti-Aging Serum 30 mL
$120.00
MAAs Repair Essence Ultra Moisturizing Anti-Aging Serum 30 mL - Reviews