AFA + Lion's Mane
 AFA and Lions Mane are two premium nutrient sources for your brain loaded with a full spectrum of bioactive compounds proven by science to target brain health. AFA and Lion's Mane when working together support and optimize mental function while protecting against cognitive decline and neurological diseases. 
Lions Mane (Hericium erinaceus)
Summary
 A dynamic functional mushroom for enhancing mental function and clarity, regeneration of brain cells, gut health and overall mind and body harmony.
Lion's Mane mushroom has been used for thousands of years in eastern medicine and contains several bioactive compounds hericenones and erinacines that are known agents that can stimulate the growth of nerve cells, this is called Nerve Growth Factor [NGF]. Lion's Mane also supports an anti-inflammatory effect as well. This combination results in a variety of cognitive supporting benefits and protection against Alzheimer's, dementia and preventing memory loss. Lion's Mane is also effective for sharpening mental clarity, focus and concentration as well as healing mild neurological impairment due to injury. Studies also suggest that depression, anxiety and irritation can be lessened when taking Lion's Mane.
AFA Blue Green Algae is a cognitive health, mood and neurological nutrient powerhouse because of its complete and 97% bioavailable nutritional profile. AFA is perfectly balanced with over 100+ micronutrients working in harmony.
The 20 amino acids include powerful mood boosting tryptophan and phenylalanine as well as an array of essential fatty acids that lubricate the brain cells for optimal functioning. The brain boosting effects of AFA are probably one of the more noticeable benefits most people can feel after weeks of starting a regular AFA program To learn more
Clinical Studies
Chong PS, Fung ML, Wong KH, Lim LW. Int J Mol Sci. 2019;21(1):163. Published 2019 Dec 25. doi:10.3390/ijms21010163
Kushairi N, Phan CW, Sabaratnam V, David P, Naidu M.  Antioxidants (Basel). 2019;8(8):261. Published 2019 Aug 1. doi:10.3390/antiox8080261
Ratto D, Corana F, Mannucci B, et al.  Nutrients. 2019;11(4):715. Published 2019 Mar 27. doi:10.3390/nu11040715
Rahman MA, Abdullah N, Aminudin N.  Crit Rev Biotechnol. 2016;36(6):1131-1142. doi:10.3109/07388551.2015.1100585
Jiang S, Wang S, Sun Y, Zhang Q.  Appl Microbiol Biotechnol. 2014;98(18):7661-7670. doi:10.1007/s00253-014-5955-5
Li IC, Chang HH, Lin CH, et al.Front Aging Neurosci. 2020;12:155. Published 2020 Jun 3. doi:10.3389/fnagi.2020.00155
Kawagishi, Hirokazu, et al.  Townsend Letter for Doctors and Patients, no. 249, Apr. 2004, pp. 54+. 
Gregory J, Vengalasetti YV, Bredesen DE, Rao RV.  Biomolecules. 2021;11(4):543. Published 2021 Apr 8. doi:10.3390/biom11040543
Cardoso BR, Cominetti C, Cozzolino SM. Clin Interv Aging. 2013;8:531-542. doi:10.2147/CIA.S27983

Relations of magnesium intake to cognitive impairment and dementia among participants in the Women's Health Initiative Memory Study: a prospective cohort study
Agnew-Blais JC, Wassertheil-Smoller S, Kang JH, et al. J Acad Nutr Diet. 2015;115(2):231-241. doi:10.1016/j.jand.2014.07.006
Mocchegiani E, Santarelli L, Costarelli L, et al. Plasticity of neuroendocrine-thymus interactions during ontogeny and ageing: role of zinc and arginine. Ageing Res Rev. 2006;5(3):281-309. doi:10.1016/j.arr.2006.06.001

**These Statements have not been evaluated by the Food and Drug Administration. This product is not intended to treat cure or prevent any disease.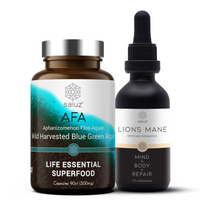 Brain Health Function + Protection + Memory + Focus Pairing
- 50g
$71.00
Brain Health Function + Protection + Memory + Focus Pairing - Reviews
I can focus again
I was struggling with headaches from a lingering concussion for the last year.
I started taking AFA + Lion's Mane daily a few months ago and I've experienced less headaches as well as more stamina, focus, and calm.
I'm so grateful for Saluz and I've really enjoyed learning about AFA on a deeper level.