AFA + Reishi
When taken daily AFA + Reishi will support calm restful sleep while providing powerful antioxidants to support a long healthy life!


 Reishi (Ganoderma Lucidum)


Reishi is a functional mushroom known in Traditional Chinese Medicine as the "mushroom of immortality". It has been a revered and trusted fungi in Asia for thousands of years.  The bioactives in Reishi  target benefits associated with quality of life, management of fatigue and  overall blood levels, sleep and anxiety. The Triterpene and Polysaccharide and other identified bioactives are very active across multiple mechanisms of action in your body's immune system and nervous system. It is a well studied fungi in the area of supporting cancer patients as an adjunct therapy and preventative agent. It is also noted to support fatigue and depression. 
Reishi exhibits a calming and anti anxiety effect by improving the function of our adrenal glands thereby promoting restful sleep, less anxiety and an overall sense of calm and wellbeing. The most studied aspect of Reishi on humans is with cancer patients. 
The value as a functional mushroom is that Reishi works across a wide range of systems via multiple bioactives, making this fungi a great overall daily tonic. It is also a mushroom that can actually elicit a response" for many. A dropper or two twice a day with calming tea tea is a great combination to promote restful recovery and sleep. 
Reishi + AFA
The wide spectrum benefits of Reishi will be enhanced by AFA's perfectly balanced amino acids, supported by all the other micronutrients that target brain health and mood. AFA will further enhance the calming benefits of Reishi making this combination  a highly functional calming anti anxiety pairing. 
 As a cold water algae, AFA has a balanced lipid profile to lubricate intercellular communication. AFA has just enough omega 3's and amino acids neurotransmitters optimize a new sense of natural calm coming from within assisting your own ability to achieve real calm and deep restful sleep.
Clinical Studies
Ganoderma lucidum Protects Dopaminergic Neuron Degeneration through Inhibition of Microglial Activation
Zhang R, Xu S, Cai Y, Zhou M, Zuo X, Chan P.  Evid Based Complement Alternat Med. 2011;2011:156810. doi:10.1093/ecam/nep075
Ganoderma lucidum improves physical fitness in women with fibromyalgia

Collado Mateo D, Pazzi F, Domínguez Muñoz FJ, et al. GANODERMA LUCIDUM IMPROVES PHYSICAL FITNESS IN WOMEN WITH FIBROMYALGIA. Nutr Hosp. 2015;32(5):2126-2135. Published 2015 Nov 1. doi:10.3305/nh.2015.32.5.9601
The role of polysaccharide peptide of Ganoderma lucidum as a potent antioxidant against atherosclerosis in high risk and stable angina patients
Sargowo D, Ovianti N, Susilowati E, et al. Indian Heart J. 2018;70(5):608-614. doi:10.1016/j.ihj.2017.12.007
Ganoderma lucidum (Reishi) suppresses proliferation and migration of breast cancer cells via inhibiting Wnt/β-catenin signaling

Zhang Y. Ganoderma lucidum (Reishi) suppresses proliferation and migration of breast cancer cells via inhibiting Wnt/β-catenin signaling. Biochem Biophys Res Commun. 2017;488(4):679-684. doi:10.1016/j.bbrc.2017.04.086
*These Statements have not been evaluated by the F
ood and Drug Administration. This product is not intended to treat cure or prevent any disease.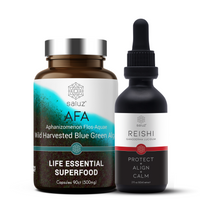 Calm + Sleep + Longevity Pairing
- 50g
$71.00
Calm + Sleep + Longevity Pairing - Reviews
I feel like my old self again!
I started it but I didn't notice anything within the first couple of days. I was going to return the product and I talked to the support team and he encouraged continue. And by the way the customer service was amazing!
I upped the dose to a half a teaspoon twice a day. After two days I started to notice more and more energy plus I felt a spark in my brain. I had more mental clarity and felt amazing every day.
Now I feel more focused less triggered and way more at peace and in control of my actions. I'm never going to stop taking this product.

Since I've started Saluz people tell me how my skin is glowing and I look healthy and radiant. It's also been helping with my appetite feeling satisfied on less food.
I literally have thriving energy from when I wake up till I go to bed plus feel calm at night and I instantly fall asleep. I feel like my adrenals are very supported throughout the day.
I'm also very happy and motivated throughout my days now and I can't wait to wake up the next morning to get things done. For somebody who has tried everything I finally feel like I found the missing link.
Thank you Saluz