AFA + Lion's Mane + Vital are the perfect combination to Activate YOUR true potential.  

AFA & Cognition
 Blue Green Algae is a cognitive health, mood and neurological powerhouse because of its complete and 97% bioavailable nutritional profile. AFA is perfectly balanced with over 100+ micronutrients working in harmony.
The 20 amino acids include powerful mood boosting tryptophan and phenylalanine as well as an array of essential fatty acids that lubricate and nourish your brain cells for optimal functioning. The brain boosting properties of AFA are one of the more noticeable benefits of a daily AFA program. *See AFA & Focus to learn more*
AFA & Performance 
 AFA provides a broad spectrum micronutrient foundation, to nourish your cells providing sustained calm real energy and endurance to fuel your dreams. The chlorophyll in AFA cleanses your blood and transports oxygen throughout your body, to manage lactic acid build up. The complete amino acids spark your brain so you can remain focused calm and present for longer periods of time. The vast minerals wealth in AFA provides the electrical fuel needed for countless life essential processes.        
AFA + Lions Mane 
are two premium nutrient sources for your brain loaded with a full spectrum of bioactive compounds proven by science to target brain health and enhance neurological growth. AFA and Lion's Mane are natures most potent natural brain foods that support and optimize cognitive function while protecting against neurological diseases and mental decline.  *See Lion's Mane Tincture to learn more*
AFA + Vital Blend Tincture
Our Vital blend is a powerful combination of the world's best energy boosting adaptogens that support fatigue resistance and peak performance. Vital Source includes Phyto Androgen Pine Pollen, performance enhancing mushroom Cordyceps, + Ayurvedic healers Ashwagandha and Nettle Root.  When combined with AFA it supports the body's ability to produce and sustain energy and vitality. 
*See Vital Tincture to learn more*
This is a powerful combo to spark your brain and body for ultimate performance. 
**These Statements have not been evaluated by the Food and Drug Administration. This product is not intended to treat cure or prevent any disease.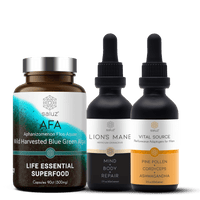 AFA + Lion's Mane + Vital Energy Pairing
- 90 Capsules
$104.00
AFA + Lion's Mane + Vital Energy Pairing - Reviews