Cordyceps (
Cordyceps Sinensis) 
Source: Certified Organic Farms USA
Blends: Vital Source, Protect Source
Key Bioactive Compound 
-Cordycepin
Benefits:
Physical performance

Energy

Endurance

Recovery

Lung/heart health*

Liver & kidney

Cholesterol LDL
Summary:
Contains active ingredients for boosting athletic performance and vitality, and supports respiratory ailments.
The Story
Cordyceps are a unique parasitic mushroom that literally consumes death to create life by attacking and growing in caterpillar larvae. Wild harvested cordyceps are rare and extremely expensive but our USDA organic grown Cordyceps Sinensis are painstakingly cultivated from the highest quality Tibetan strains, reproducing the same light, temperature, and oxygen levels as its native environment. Our strand has the same genetics of the original, found where it was originally located. The result is a cordyceps with maximum potency and in fact have more active compounds then wild harvested.
 Strong evidence exists that Cordyceps can immediately boost production and efficiency of ATP production in our bodies. ATP or Adenosine triphosphate is an organic compound and hydrotrope that's  crucial to providing energy to our cellular processes. The result is an immediate boost to general athletic performance in humans regarding efficient energy metabolism resulting in increased endurance, reduced fatigue and quicker recovery. Asian Olympic athletes and world record performances are associated with the use of Cordyceps. This fungi medicine contains active ingredients cordycepin, cordycepic acid, sterols (ergosterol) and have been reported to exert immunomodulatory, anti-inflammatory, anti-microbial and antitumor effects in specific cancers.*
A potent functional mushroom to enhance performance or for chronic disease treatments, a potent adaptogen to add to use as a varietal or in our blends. 

Our Cordyceps contains:
mycelium, primordia, fruiting bodies, and extracellular compounds
Clinical Studies
"New Findings on Cytokines from Yunnan University Summarized [Cordycepin Promotes Remyelination Via Suppression of Neuroinflammation In a Cuprizone-Induced Mouse Model of Demyelination]." News of Science, NewsRX LLC, 2019, p. 1887.
Yao LH, Huang JN, Li CH, et al. Cordycepin suppresses excitatory synaptic transmission in rat hippocampal slices via a presynaptic mechanism. CNS Neurosci Ther. 2013;19(4):216-221. doi:10.1111/cns.12060
 Li Y, Talbot CL, Chandravanshi B, et al. Sci Rep. 2022;12(1):7273. Published 2022 May 4. doi:10.1038/s41598-022-11219-3
 Zhou X, Gong Z, Su Y, Lin J, Tang K. J Pharm Pharmacol. 2009;61(3):279-291. doi:10.1211/jpp/61.03.0002
 Hirsch KR, Smith-Ryan AE, Roelofs EJ, Trexler ET, Mock MG.  J Diet Suppl. 2017;14(1):42-53. doi:10.1080/19390211.2016.1203386
 Lin BQ, Li SP. In: Benzie IFF, Wachtel-Galor S, eds. Herbal Medicine: Biomolecular and Clinical Aspects. 2nd ed. Boca Raton (FL): CRC Press/Taylor & Francis; 2011.
 *These Statements have not been evaluated by the Food and Drug Administration. This product is not intended to treat cure or prevent any disease.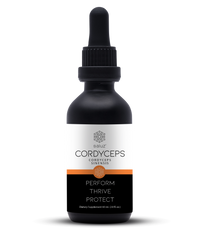 Cordyceps (Energy) Mushroom Tincture 2 oz.
$33.00
Why you'll love it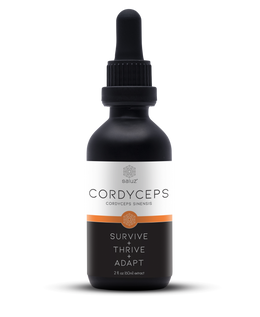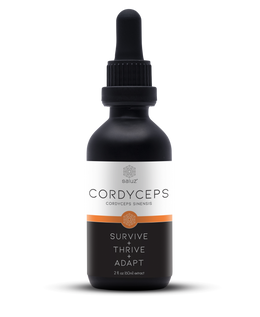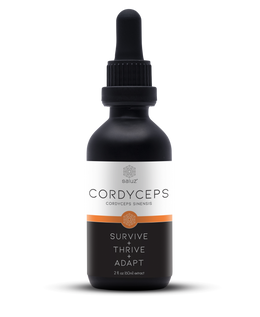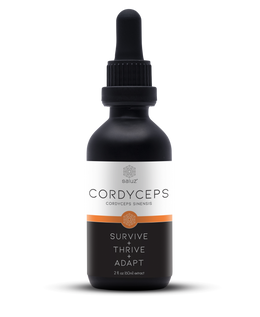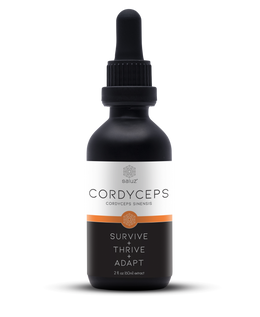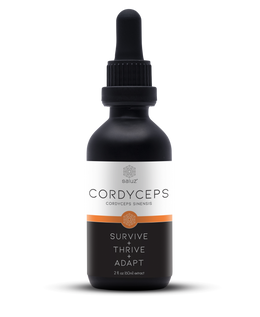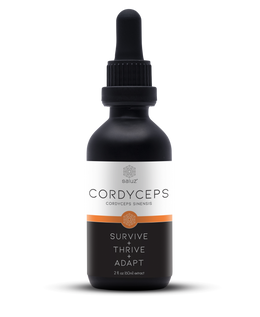 Cordyceps supplementation may improve tolerance to high intensity exercise, with greater benefits when consistently supplementing it. This is because cordyceps increases the body's production of adenosine triphosphate (AT), which is vital for transferring energy to muscles. With that, your body improves the way it uses oxygen during exercise, i.e. VO2 Max
Besides boosting your energy capacity and reducing fatigue during workouts or sports, increasing VO2 max will lead to stronger bones and a healthier brain (and thus a reduced risk of developing dementia and Alzheimer disease)
The result is an immediate boost to general athletic performance in humans regarding efficient energy metabolism resulting in increased endurance, reduced fatigue and quicker recovery.
Supports efficient energy metabolism resulting in quicker recovery.
Cordyceps sinensis is a traditional Chinese herbal medicine that has been used for centuries in Asia as a tonic to soothe the lung for the treatment of respiratory diseases. They can also be used as lung support for smokers, and may help with the health of lungs while trying to quit smoking.
It has been well documented to possess lipid-lowering and anti-oxidative activities, making it a promising candidate for treatment of Non alcoholic fatty liver disease. Is one of the most commonly used ingredients to treat people with chronic kidney disease or to facilitate post-kidney transplant health
It is well proven through many clinical studies and formal trials that Cordyceps helps to reduce cholesterol and triglycerides and to increase the ratio of HDL to LDL cholesterol.
Cordyceps (Energy) Mushroom Tincture 2 oz. - Reviews