AFA + Reishi + Vitelle are the perfect combination to Radiate YOUR true potential.  

AFA & Mood
 Blue Green Algae is a cognitive health, mood and neurological powerhouse because of its complete and 97% bioavailable nutritional profile. AFA is perfectly balanced with over 300+ micronutrients working in harmony.
The 20 amino acids include powerful mood boosting tryptophan and phenylalanine as well as an array of essential fatty acids that lubricate and nourish your brain cells for optimal functioning. The brain boosting properties of AFA are one of the more noticeable benefits of a daily AFA program.
 As a cold water algae, AFA has a balanced lipid profile to lubricate intercellular communication. AFA has just enough omega 3's and amino acids neurotransmitters optimize a new sense of natural calm coming from within assisting your own ability to achieve real calm energy and restful sleep.
*See AFA & Mood to learn more*

AFA & Women's Health
AFA provides a wide spectrum micronutrient foundation kickstarting cellular regeneration across your entire mind and body nourishing your cells resulting in clean natural energy, antioxidant protection and the mood and cognitive support that AFA is well known for. The chlorophyll in AFA cleanses your blood and transports oxygen throughout your body and high quality naturally occurring complete B vitamins supports broad spectrum bodily functions. The complete amino acids spark your brain improving mood and focus while 70+ essential and trace  minerals ignite processes that are critical for optimal health and basic survival such as bringing nutrients into the cells, removing toxins and countless other processes.  
*Learn more about how AFA supports women's health.*    
AFA + Reishi 
The wide spectrum benefits of Reishi will be enhanced by AFA's perfectly balanced amino acids, supported by all the other micronutrients that target brain health and mood. AFA will further enhance the calming benefits of Reishi making this combination  a highly functional calming anti anxiety pairing. 
 *See Reishi Tincture to learn more*
AFA + Vitelle Blend Tincture
Is a nourishing blend of trusted and well studied adaptogenic plants formulated by master herbalists for Saluz to energize, harmonize, and support the nutrient requirements of women. It is a powerful combination of plants that support fatigue,  physical and emotional stress management, and hormone balance. Vitelle includes Shatavari, performance enhancing Chaste Berry + a unique harmonizing botanical blend of Goji Berry,  Raspberry leaf, Blessed Thistle, Partridge Berry, and Motherwort. This is the finest collection of adaptogens possible formulated in a potent tincture aimed specifically at supporting women's health needs.
*See Vitelle Tincture to learn more*
This is a powerful combo to nourish your brain and body for performance. 
**These Statements have not been evaluated by the Food and Drug Administration. This product is not intended to treat cure or prevent any disease.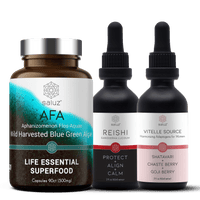 AFA + Reishi + Vitelle Energy Pairing
- 90 Capsules
$104.00
AFA + Reishi + Vitelle Energy Pairing - Reviews