Lion's Mane (
Hericium Erinaceus)
Source: Certified Organic Facility USA
Blends  Protect Source
Benefits:
Memory

Nerve Regeneration*

Immunity*

Gut Health

Blood sugar*

Inflammation
Summary
 A dynamic agent for enhancing mental function and clarity, regeneration of brain cells, gut health and overall mind and body harmony
The Story
Lion's Mane as a daily tonic to sharpen cognitive ability for depression, anxiety, prevention and treatment of Alzheimer's and a medicine for nervous system injuries like stroke, concussions and multiple sclerosis. * Lion's Mane also has promising results in reducing digestive tract ulcers, Crohn's disease and inflammatory bowel disease as enormous potential in treatment and prevention of gastrointestinal ailments.
Lion's Mane also has very promising evidence for it's support for heart health and strokes by preventing the oxidation of cholesterol reducing the rate of blood clotting.* Lion's Mane is a remarkably complex and diverse fungi with a unique focus on boosting neurotrophic or brain activity. Bioactive compounds are focused on neurotrophic activity, enhancing Nerve Growth Factor NGF in the nerve cell walls regulating emotional responses and learning.*
Use Lion's Mane as a daily tonic to sharpen cognitive ability for depression*
Our Lion's Mane contains: 
mycelium, primordia, fruiting bodies, and extracellular compounds
Clinical Studies
Chong PS, Fung ML, Wong KH, Lim LW. Int J Mol Sci. 2019;21(1):163. Published 2019 Dec 25. doi:10.3390/ijms21010163
Kushairi N, Phan CW, Sabaratnam V, David P, Naidu M.  Antioxidants (Basel). 2019;8(8):261. Published 2019 Aug 1. doi:10.3390/antiox8080261
Ratto D, Corana F, Mannucci B, et al.  Nutrients. 2019;11(4):715. Published 2019 Mar 27. doi:10.3390/nu11040715
Rahman MA, Abdullah N, Aminudin N.  Crit Rev Biotechnol. 2016;36(6):1131-1142. doi:10.3109/07388551.2015.1100585
Jiang S, Wang S, Sun Y, Zhang Q.  Appl Microbiol Biotechnol. 2014;98(18):7661-7670. doi:10.1007/s00253-014-5955-5
Li IC, Chang HH, Lin CH, et al.Front Aging Neurosci. 2020;12:155. Published 2020 Jun 3. doi:10.3389/fnagi.2020.00155
Kawagishi, Hirokazu, et al.  Townsend Letter for Doctors and Patients, no. 249, Apr. 2004, pp. 54+. 
Chong PS, Poon CH, Roy J, et al.  Chin Med. 2021;16(1):132. Published 2021 Dec 7. doi:10.1186/s13020-021-00546-8
Mori K, Obara Y, Moriya T, Inatomi S, Nakahata N.  Biomedical Research (Tokyo, Japan). 2011 Feb;32(1):67-72. DOI: 10.2220/biomedres.32.67. PMID: 21383512.
Gregory J, Vengalasetti YV, Bredesen DE, Rao RV.  Biomolecules. 2021;11(4):543. Published 2021 Apr 8. doi:10.3390/biom11040543

*These Statements have not been evaluated by the Food and Drug Administration. This product is not intended to treat cure or prevent any disease.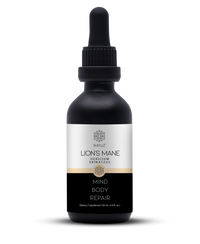 Lion's Mane (Brain) Mushroom Tincture 2 oz.
$33.00
Why you'll love it
Bioactive compounds are focused on neurotrophic activity, enhancing Nerve Growth Factor NGF in the nerve cell walls regulating emotional responses and learning.*
Bioactive compounds are focused on neurotrophic activity, enhancing Nerve Growth Factor NGF in the nerve cell walls regulating emotional responses and learning.*
Lion's Mane also has promising results in reducing digestive tract ulcers, Crohn's disease and inflammatory bowel disease as enormous potential in treatment and prevention of gastrointestinal ailments
Lion's Mane also has very promising evidence for it's support for heart health and strokes by preventing the oxidation of cholesterol reducing the rate of blood clotting.*
Lion's Mane as a daily tonic to sharpen cognitive ability for depression, anxiety, prevention and treatment of Alzheimer's and a medicine for nervous system injuries like stroke, concussions and multiple sclerosis. *
Lion's Mane (Brain) Mushroom Tincture 2 oz. - Reviews