Product description: 


MAAs Mild HB Leaf Plus Soap is a plant-based skin care soap that is easy to apply to the skin, gently cleanses it, removes age spots, removes dullness, promotes shine, brightness, smoothness and beauty of the skin.

The soap contains several components that are unique to Japanese scientists. The discovery of this brand is a special component - MAAs - mycosporin-like acids - these are natural UVA filters and antioxidants. They are obtained using a special technology from blue-green algae. Their tiny size allows them to penetrate deep into the skin, nourishing it from the inside out. As part of the masks, these acids are designed not only to fight the destruction of collagen in the skin, but also to stimulate the skin to produce its own collagen. Thanks to this, after the first application, wrinkles are smoothed out, the face looks toned and fresh. At the same time, the pores are narrowed and the relief is leveled, excessive sebum secretion decreases.

Whipping into a gentle potassium-based foam, the soap gently cleanses the skin, preventing inflammation, removes the products of the activity of the sebaceous glands, and has a slightly astringent effect thanks to tea catechins.

Hibiscus leaf extract is an excellent antioxidant, helps the skin restore its protective barrier, evens its tone, smoothes and tones.

Tsunomata seaweed extract, treated with lactic acid bacteria, has regenerating properties, stimulates the regeneration and formation of new skin cells, helps the skin maintain a normal level of moisture.

The soap contains squalane, which easily penetrates the lipid layer of the skin and prevents moisture evaporation. Therefore, soap not only cleanses, but also effectively moisturizes and prevents dryness and flaking, restores the skin to its former smoothness and elasticity.

**Does not contain silicones, mineral oils, alcohol, parabens, colorants and artificial fragrances.

Suitable for all skin types and ages.

Comes with a handy foaming net, allowing you to instantly whip up the softest foam.

Ingredients: Potassium-containing soap base, water, DPG, sucrose, glycerin, sorbitol, Tsunomata algae extract, hibiscus leaf extract, mycosporin-like acids, propanediol, squalane, tea catechin, cyclodextrin, ethanol.


Application: After moistening the soap, roll it in your palms several times to create a lather, or use a foaming net. Wash your face with light massage movements, then rinse with cold or warm water. Then use your usual moisturizing care.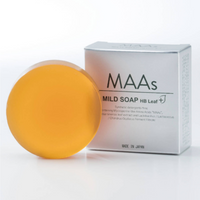 MAAs Anti-Aging Mild Hibisicus Leaf Soap
$29.00
MAAs Anti-Aging Mild Hibisicus Leaf Soap - Reviews